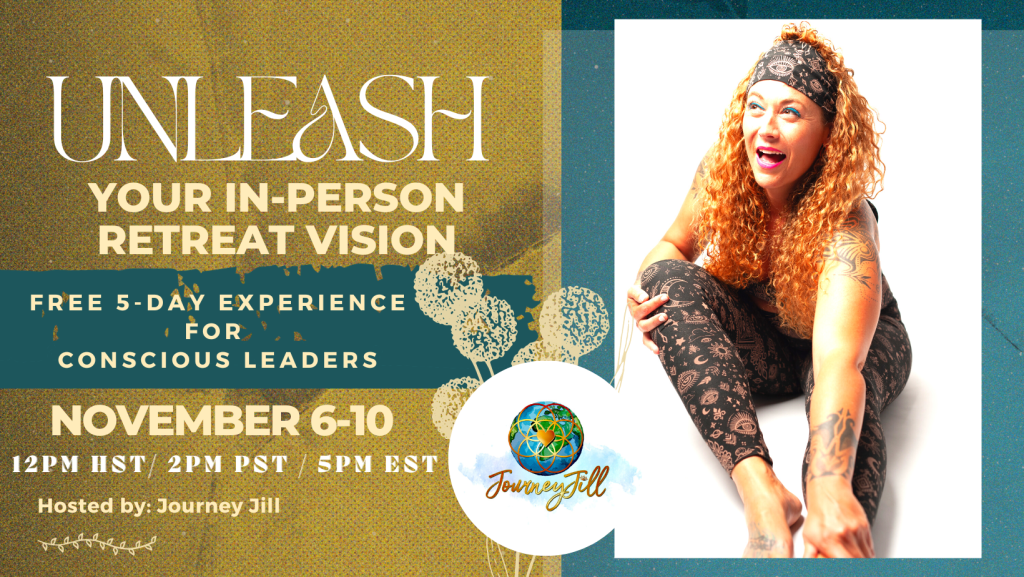 Are you a conscious leader with a dream of hosting your very own retreat? Or are you already a retreat host, looking to level up? It's time to turn that dream into a reality and create the most amazing offering yet! Join this exclusive 5-Day Experience and take the first step towards manifesting the retreat of your dreams.
🌴 Day 1: Retreat Vision and Location 
Unlock Your Vision:
Visualize your dream retreat and map out the details that will bring it to life. Discover how to choose the perfect location that aligns with your vision.
🌅 Day 2: Ideal Attendees 
Attract Your Tribe:
Identify your ideal attendees and understand their needs and desires. Build a retreat that resonates with your target audience.
🌿 Day 3: Content and Experiences 
Craft Unforgettable Experiences:
Learn how to create content and experiences that leave a lasting impact on your attendees. Design a retreat agenda that aligns with your vision.
💰 Day 4: Budget and Upsell 
Budget Like a Pro:
Master the art of budgeting and discover ways to maximize your retreat's profitability. Explore upsell opportunities that add value to your attendees.
🚀 Day 5: Marketing and Community Building 
Launch Your Retreat:
Get the insider secrets on marketing your retreat and building an inclusive community. Learn how to fill your retreat with enthusiastic participants who stay connected for life.
✨ Why Join The Experience? ✨
🌺 This 5-Day Experience is completely FREE.
🌺 Gain invaluable insights from retreat expert JourneyJill.
🌺 Connect with a like-minded community of conscious leaders.
🌺 Take actionable steps toward realizing your retreat dream.
🌺 Unleash your full potential as a retreat host.
Don't miss out on this opportunity to bring your retreat vision to life. Sign up now to join the experience and ignite the journey toward manifesting the retreat of your dreams. Your vision is within reach!
👇 Secure Your Spot Now! 👇

🌈 Let's turn your retreat vision into reality! 🌈 
November 6th – 10th, 12pm HST/2pm PST/5pm EST – Save the date and join us on this incredible journey. Each training will be an hour or less.
It will be conducted on virtually on Zoom and you will be sent a link to join after you sign up. 
Questions? Reach out to me at jj@journeyjill.com or 808-867-0822. I'm here to support your retreat dream coming true!
🌟 Embrace your calling as a conscious retreat leader and create a retreat that leaves a lasting impact.
Join the Unleash Your In-Person Retreat Vision Experience now! 🌟